School Meals
Meals are provided as part of the Local Authority's catering contract with Edwards and Ward and are in line with the nutritional guidelines.
We are fortunate to have a new kitchen completed in 2012.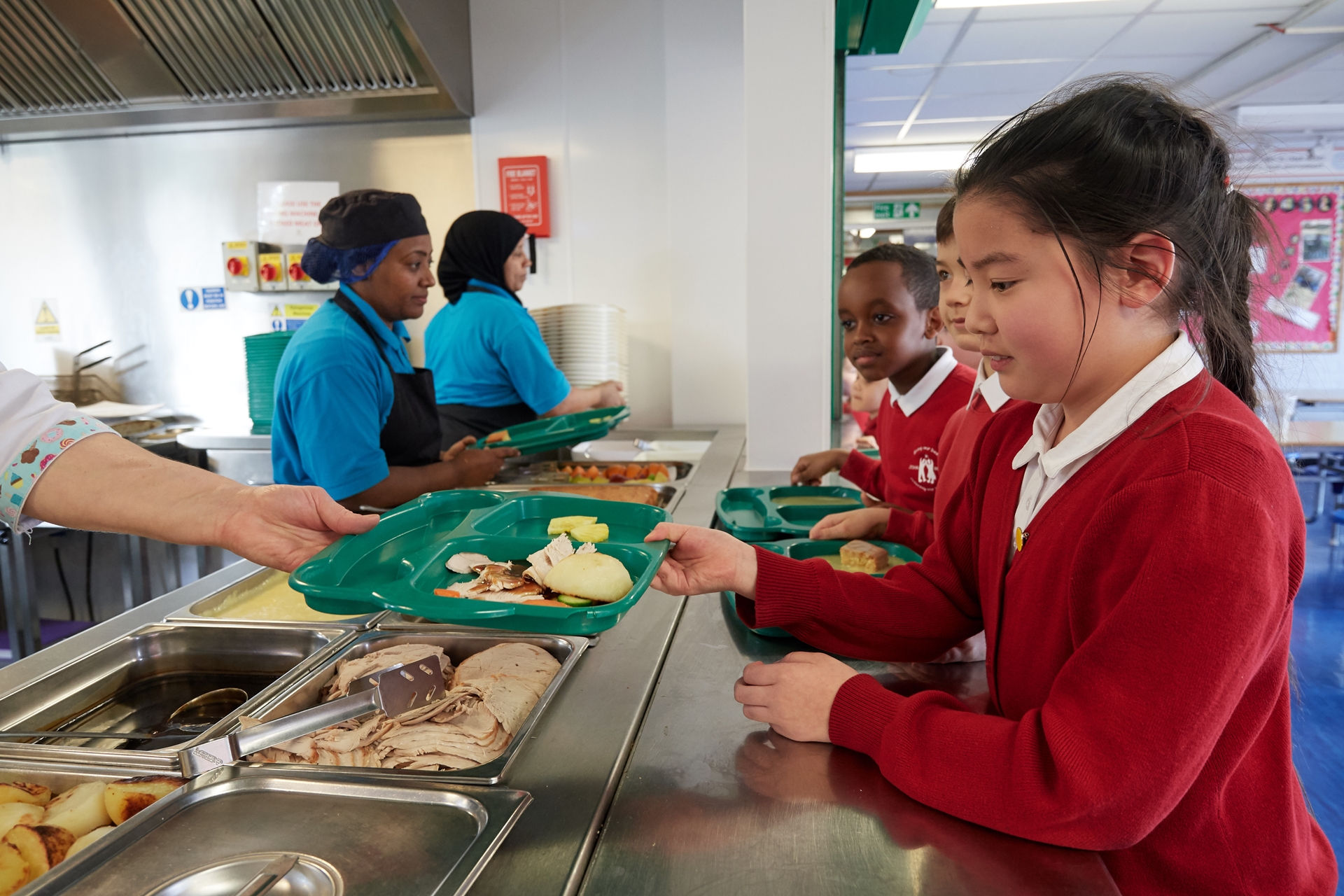 The price of a school meal is £2.30 per pupil, per day. Payment must be made via bank transfer, and the minimum transaction using this service must be equivalent to half a terms' school meal charges. When paying please quote the reference as 'child's name - meals'.
Schedule of the School Meals Payments is listed below:
Schedule of School Meals payment for Summer Term 2019
Half Term
Dates
Payment Due
Year 3, 4, 5 and 6 + Full Time Nursery
Part Time Nursery
Summer 1

23/04/19 - 24/05/19

19/04/19

£52.90

£23

Summer 2

04/06/19 - 19/07/19

20/05/19

£78.20

£39.10
Click here to view the Spring/Summer 2019 School Meal Menu.
If at any time you wish your child to change from school dinners to packed lunch or vice versa, we ask that you give us a half term's notice. It is also the parent's responsibility to inform us of your child's allergies or dietary requests.
Nut Free School
We are a nut free school and would like to remind parents and carers that we have children in school with severe nut allergies.
As you can appreciate, this can be life threatening should these children come into contact with any traces of nuts; this includes smelling or inhaling airborne nut particles.
To keep all our children safe, all forms of nuts or foods with traces of nuts must not be brought into school. Please can you ensure when you provide your child with a packed lunch that it does not contain any of these foods, in particular Nutella style chocolate spread.
Packed Lunches
Children need a balanced diet with a good variety of foods to ensure that all their requirements for growth and development are met. The government has indicated that all school dinners must meet nutritional guidelines and these standards are met by the LA contractors (Edwards and Ward Catering). It seems only fair therefore, that we should attempt to make sure that packed lunches also meet the same criteria.
Healthy Eating
We are a Healthy School and as such we operate the traffic light system with regard to lunch boxes and what they should contain. The packed lunch should also include a bottle of plain water (not fruit juice of any kind). Jugs and cups of water are always available to all children in the diner hall.
As part of our PSHCEE programme of work and in an effort to promote healthy eating amongst our pupils we are promoting the traffic light system to help the children to make healthy choices at lunchtimes.
You may well ask what does this mean?
Red – Stop
Items to be eaten occasionally
Amber – Get Ready
Food that is good for you, but should be eaten in moderation. This food group is important for energy, calcium and protein
Green – Go
Important for essential vitamins and to be eaten lots of
In their lunch boxes, we encourage the children to include lots of items from the 'Green' food list, some from the 'Amber' food list and one item only from the 'Red' food list. The children can be very inventive and with a little help they will make healthy choices whether they have hot dinners from our kitchen or healthy packed lunches prepared.
| | | |
| --- | --- | --- |
| RED – 1 item only | AMBER – several items | GREEN – unlimited |
| Plain Biscuits | Bread, Pasta, Rice | Fruit |
| Plain Cakes | Cheese, Yoghurt | Vegetables |
| | Eggs | Salad |
| | Sausages, Cooked Meats, Fish | Water |
* Banned items = Crisps, chocolate, sweets or pre-packed snacks such as lunchables, chocolate spreads, peanut butter and conserves (jam and marmalades).